Soundless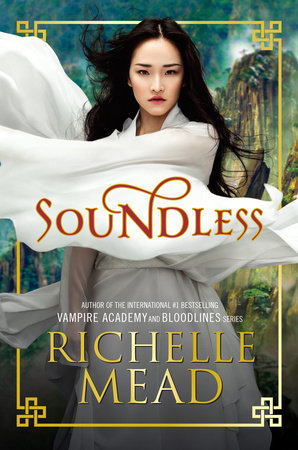 Author: Richelle Mead
Genre: YA, Fantasy
Publication Date: November 10 2015
Publisher: Razorbill
Format: Hardcover
Pages: 266
Source: Library
Rating: ♥ [DNF] 
From Richelle Mead, the #1 internationally bestselling author of Vampire Academy and Bloodlines, comes a breathtaking new fantasy steeped in Chinese folklore.
For as long as Fei can remember, there has been no sound in her village, where rocky terrain and frequent avalanches prevent residents from self-sustaining. Fei and her people are at the mercy of a zipline that carries food up the treacherous cliffs from Beiguo, a mysterious faraway kingdom.
When villagers begin to lose their sight, deliveries from the zipline shrink and many go hungry. Fei's home, the people she loves, and her entire existence is plunged into crisis, under threat of darkness and starvation.
But soon Fei is awoken in the night by a searing noise, and sound becomes her weapon.
Richelle Mead takes readers on a triumphant journey from the peak of Fei's jagged mountain village to the valley of Beiugo, where a startling truth and an unlikely romance will change her life forever…
1.5 / 2 Stars
This was my first read by Richelle Mead. I never got into her Vampire Academy and Bloodlines series, I grew up on Buffy and found the Blue Bloods series by Melissa de la Cruz WAY more interesting than the premise of Mead's books. That being said, when I first heard about Soundless I was excited, it actually sounded amazing and let's not skip over that cover! HELLO diversity!! But that's about all I was able to enjoy when it comes to Soundless.
HOURS, upon hours of my life I will not get back that were wasted on trying to be interested and enjoy this book. Remember, I was VERY excited to read this! Fei goes on my list of boring, one-dimensional characters that have no depth whatsoever. The writing style? Painful. Boring. Flat. And did I mention boring? I swear I was close to putting tape on my eyes to try to stay awake and keep reading. I kept waiting for the storyline to pick up, for something interesting/intriguing to finally happen to make it worth the continuous torture I went through while reading, but that never happened. Granted, I did DNF this at Chapter 10 (page 133), so maybe something finally happened after that chapter. But there are 19 chapters + the epilogue and to get as far as I did something dramatic and plot twisty should have either have happened to started to brew at that point.
Soundless, you were a complete disappointment and I kind of, I WISH I never read you.
Until next time bibliophiles,
Patty♕