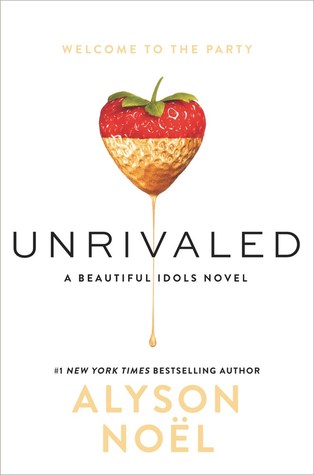 Unrivaled
Author: Alyson Noël
Series: Beautiful Idols, #1
Genre: YA, Mystery, Suspense
Publisher: Katherine Tegen Books
Publication Date: May 10 2016
Format: Paperback (ARC)
Pages: 420
Source: Indigo Summer Preview Event
Rating: ♥ ♥. 5 
Everyone wants to be someone.
Layla Harrison wants to leave her beach-bum days for digs behind a reporter's desk. Aster Amirpour wants to scream at the next casting director who tells her "we need ethnic but not your kind of ethnic." Tommy Phillips dreams of buying a twelve-string guitar and using it to shred his way back into his famous absentee dad's life.
But Madison Brooks took destiny and made it her bitch a long time ago.
She's Hollywood's hottest starlet, and the things she did to become the name on everyone's lips are merely a stain on the pavement, ground beneath her Louboutin heel.
That is, until Layla, Aster, and Tommy find themselves with a VIP invite to the glamorous and gritty world of Los Angeles's nightlife and lured into a high-stakes competition where Madison Brooks is the target. Just as their hopes begin to gleam like stars through the California smog, Madison Brooks goes missing. . . . And all of their hopes are blacked out in the haze of their lies.
Unrivaled is #1 New York Times bestselling author Alyson Noël's first book in a thrilling suspense trilogy about how our most desperate dreams can become our darkest nightmares.
OPENING LINE
Layla Harrison could not stop fidgeting.
Sigh.
I'm was actually very exciting for Unrivaled when I came across it at the Indigo Summer Preview Event. I haven't read any of Alyson Noel's other books but the synopsis and promise of suspense and mystery sold me. I'm still on the fence on how many stars I want to give this, it's a tie between 2.5 stars and 3 stars. In all honesty I almost DNF this about 5 times, but I was determined to finish it. I assumed that maybe the ending would make up for the lack of a story but that was not the case for me.
After reading the prologue I couldn't help but think "Oh great, a Sara Shepard type story". Majority of the time I spent reading this was accompanied by a lot of eye rolling. I felt like a was reading a Gossip Girl/Pretty Little Liars spin-off with a reality TV show aspect. There was absolutely no sense of mystery, much less suspense until close towards the last half of the book. The first half and more was mainly focused on Layla, Tommy, and Aster and understanding their back story. I really just wanted to know more about Madison because her character seemed to be the only interesting one!
Unrivaled was a decent/enjoyable read but was definitely way too long. I feel like this story could actually be condensed into a duology. Knowing that this will now be a trilogy has me on the fence because I feel like book #2 will be filled with a lot of fluff and unnecessary info.
Will I continue with this series/trilogy? Probably not…
---
Until next time bibliophiles,
Patty♕