Raw Redemption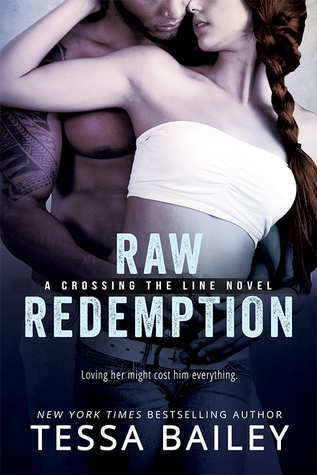 Author: Tessa Bailey
Series: Crossing the Line, #4
Genre: Adult, Contemporary Romance, Romantic Suspense
Publisher: Entangled: Select Suspense
Publication Date: June 7 2016
Format: eARC
Pages: 212
Source: IndieSage PR
Purchase: Amazon | B&N | iBooks | Kobo
Rating: ♥ ♥ ♥ ♥. 5
Disgraced cop Henrik Vance is having a shit year. Banished to a derelict undercover squad, he's been tasked with hunting down the daughter of Chicago's most dangerous criminal. His obsession with saving the beautiful girl destroyed his career. And this time, it might cost his life.
Ailish O'Kelly doesn't need a hero. She'll save herself from her father's violent criminal dynasty, thank you very much. Unfortunately, the sexy as sin cop who crashes her hideout isn't hearing reason—especially not after the kiss that becomes much more.
His boss wants her as an informant. Ailish wants Henrik to keep whispering filthy things against her skin. But she knows too well the evil they're up against, and when it comes down to protecting the man who owns her body and soul, she only has one choice…
OPENING LINE
"Henrik could only get himself off in the shower."
Raw Redemption is the final book in the Crossing the Line series and I'm sad to see this series come to an end! This isn't a series you necessarily have to read in order as each book focuses on a different pair of characters. However, these characters often make appearances in each others books. I'm currently reading Up in Smoke (book 2) and still need to read Boiling Point after (book 3) and then I plan on reread Raw Redemption :).
Tessa Bailey is a mastermind with romantic suspense novels, she gives readers the right about of suspense, characters with depth, and steamy scenes. I mean, did you read that opening line?! Raw Redemption…what a fitting name for this book! I highly enjoyed the chemistry between Henrik and Ailish, it was indeed raw and burned bright from beginning to end. I really enjoyed Ailish's character. She was constantly underestimated, it was nice having a strong female lead. Yes, at times she seemed a little immature but when you think about how she grew up it's understandable. Henrik, oh boy. Henrik is your typical intense alpha who had a naughty way with words.
I'm slightly new to Tessa Bailey's book but I have yet to come across one that I haven't loved. And honesty, I don't know if that will ever happen!
Would I recommend Raw Redemption and/or Crossing the Line series? HECK YES!
CROSSING THE LINE SERIES
RISKIER BUSINESS (Crossing the Line, #0.5)
Amazon: amzn.to/20lcMqZ
Amazon UK: amzn.to/1SEkprm
Amazon CA: amzn.to/1QlggoO
B&N: bit.ly/1KwPaGI
Kobo: bit.ly/1ng87bm
iBooks: apple.co/1VgV6td
RISKING IT ALL (Crossing the Line, #1)
Amazon: amzn.to/1OFzp4j
Amazon UK: amzn.to/1Qlgso5
Amazon CA: amzn.to/1ng89zZ
B&N: bit.ly/1PLsjck
Kobo: bit.ly/1ZZ7G3F
iBooks: apple.co/1H3i6ZU
UP IN SMOKE (Crossing the Line, #2)
Amazon: amzn.to/1OOxsQN
Amazon UK: amzn.to/1ng9QO0
Amazon CA: amzn.to/1PLtqsl
B&N: bit.ly/1Uje0iX
Kobo: bit.ly/1H0Ai3m
iBooks: apple.co/1PqvcFd
BOILING POINT (Crossing the Line, #3)
Amazon: amzn.to/1TgKgF1
Amazon UK: amzn.to/1S1T02S
Amazon CA: amzn.to/1PuCMs2
B&N: bit.ly/1OMqfRe
Kobo: bit.ly/1K2DkaJ
iBooks: apple.co/23kSSPs
GIVEAWAY
ABOUT THE AUTHOR
Tessa Bailey is originally from Carlsbad, California. The day after high school graduation, she packed her yearbook, ripped jeans and laptop, driving cross-country to New York City in under four days.
Her most valuable life experiences were learned thereafter while waitressing at K-Dees, a Manhattan pub owned by her uncle. Inside those four walls, she met her husband, best friend and discovered the magic of classic rock, managing to put herself through Kingsborough Community College and the English program at Pace University at the same time. Several stunted attempts to enter the work force as a journalist followed, but romance writing continued to demand her attention.
She now lives in Long Island, New York with her husband of eight years and four-year-old daughter. Although she is severely sleep-deprived, she is incredibly happy to be living her dream of writing about people falling in love.
Website | Blog | Twitter | Facebook | Goodreads | Newsletter
---
Until next time bibliophiles,
Patty♕
Organized by: